Quick & Frugal RV Trip Across the US (Find Out How Much it Really Cost)
We just finished our quick & frugal RV trip across the US and we are sharing how much it really cost plus our tips for keeping it inexpensive!
The purpose of this trip was to cross the US and then enter into Mexico! At the beginning of October, we started our trek across the US. The entire trip was six nights and we crossed seven state lines! Our goals were to move quickly and as frugally as possible.
This post contains affiliate links. If you click through and make a purchase, we'll get a commission at no additional cost to you.
Fuel Costs
Fuel costs were our number one expense and will likely be yours as well. The price of fuel varied from state to state. The most expensive fuel we purchased was in California and was over $4 a gallon!
We filled up a total of 10 times. We were driving a 2015 Ram 1500 and pulling a 2015 Heartland Prowler 285LX. Our gas mileage for the trip was approximately 11 miles per gallon.
Check out our tiny home on wheels in detail here! You can also shop our entire trailer.
The total fuel cost was: $542.01 (USD)
Accommodation Costs
The next biggest expense was accommodation. While our goal was to be frugal throughout the trip, we also did not want to search very hard for RV campgrounds.
We had an existing KOA Value Kard Rewards membership so we chose to stay at KOA parks. Originally we had purchased the KOA membership because we were going to living at one full time and it was going to be a HUGE cost saver.
Having the membership did provide a cost savings on the nightly rate at the campgrounds. The membership gives you 10% off at 500 KOA campgrounds across North America.
Another reason our accommodation cost is higher than it could be is because we extended our trip by one night in Needles, California. We needed a day to rest, do laundry, and run errands before crossing into Mexico.
Finally, the night before crossing into Mexico, we had to stay at a hotel. There are two main reasons: there are no RV campgrounds in Calexico, California and we are not set up to boondock, especially in the heat.
There are probably cheaper options but we stated at the Ramada by Wyndham in Holtville, California. We needed a secure and safe hotel that had a large parking lot for our rig. They were also having a flash sale so we got a slightly less expensive rate.
The total accommodation cost was: $299.27 (USD)
Accommodation Cost Saving Tip
If you are looking to cut costs or save on accommodations, the campgrounds will the number one place to do so.
Preplan your trip, find cheaper campgrounds, or boondock.
If you are a last minute planner (like we were), you can use a service like RVSpotDrop to find last minute cancellations (there is no guarantee on available spots though).
Food Costs
Food was the cheapest cost for this trip! We made a point not to eat out or stop for fast food. This kept our budget and waists trim!
We wanted to try In-N-Out Burger, but unfortunately the location in Laughlin was closed!
Instead of ordering take-out, we travelled with groceries we already had. When we ran out of food, we purchased groceries at the grocery store. It was definitely easier to purchase premade food items (which were a little more costly) or eat meat-free.
This was definitely not a culinary experience trip. We ate a lot of sandwiches and granola bars. For dinners we had simple dinners.
The total food cost was: $98.09 (USD)
Food Cost Saving Tip
Eat the groceries you have and buy more when you run out. Groceries (even pre-made food from the deli) will always be cheaper than eating out.
Miscellaneous Costs
These miscellaneous costs were the biggest part of the expenses. These are also highly dependent on your travels and completely discretionary.
Some examples of our miscellaneous costs include:
Travel insurance – $71 CAD or approximately $54 (USD)
Alcohol – $22 (USD)
Spare, full size tire for the truck – $53 (USD)
RV accessories we needed for Mexico (power extension cord, extra water hose, bistro light hooks, dashcam) – $227 (USD)
30 Amp Extension Cord – we did not want to get down into Mexico and find out that our power cord was too short. We purchased this Camco 25′ PowerGrip Extension Cord. Note: We didn't end up needing it, but it was cheaper to have and not need, than to need and not have.
Drinking Hose – same as the extension cord, we wanted to ensure that we had a long enough hose. We purchased this Camco 35′ Premium Drinking Water Hose. Note: We didn't up needing this hose either.
Dash Cam – this was a completely optional purchase but we really wanted a camera for our RV trip driving through Mexico. We purchased a very similar model at a similar price point.
The total miscellaneous costs was: $386.66 (USD)
---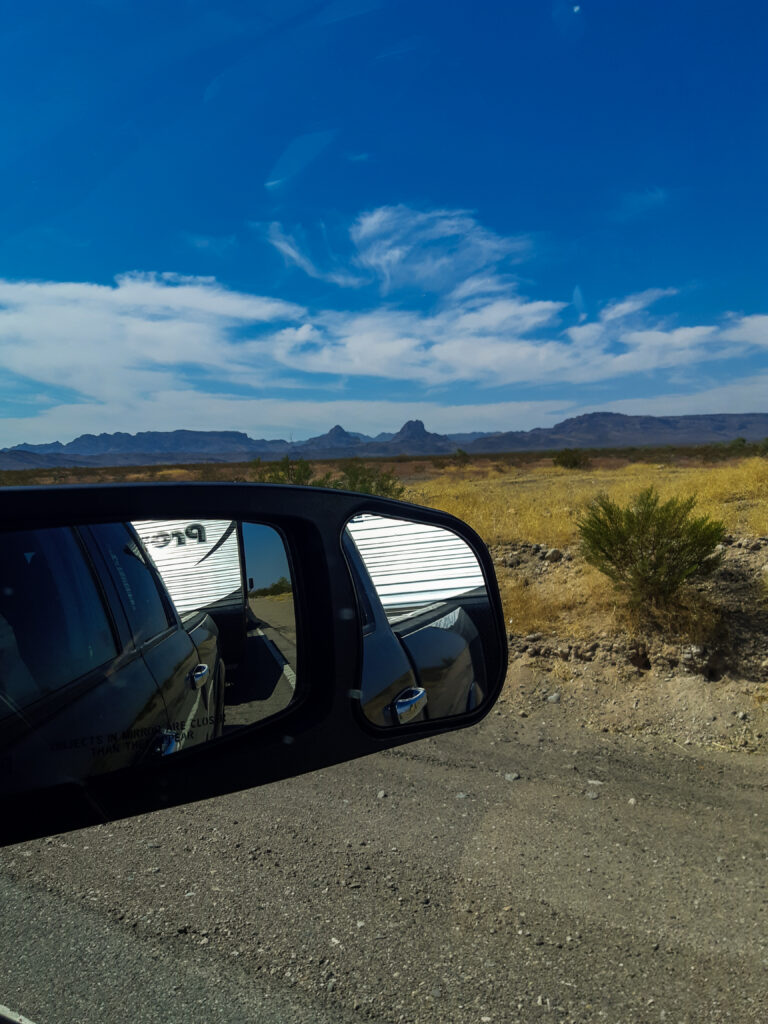 Our quick RV trip across the US was 6 days and we travelled across 7 state lines. We crossed Washington, Oregon, Idaho, Utah, Nevada, Arizona, and California. We spent 1 night in Washington, 1 night in Idaho, 1 night in Utah, and 3 nights in California (at 2 different locations).
The goal was to be quick and frugal for this trip. Our budget was $1500 and we ended up spending a grand total of $1326.03 (USD) and that is about $1789.80 CAD.
We will also be posting how much it cost to drive to Mexico, so make sure you subscribe!
Post any questions below and I will make sure to answer. If you have any specific questions for driving an RV across Mexico, post them below and I will include them in the next post.
Be sure to subscribe and follow us on instagram.