Easy RV Decor Hack for Under $2
Check out this super easy RV decor hack that cost less than $2! This RV modification was featured in Rootless Living magazine Issue #5: The RV Renovation Issue. Check out all our press here.
This post contains affiliate links. If you click through and make a purchase, we'll get a commission at no additional cost to you.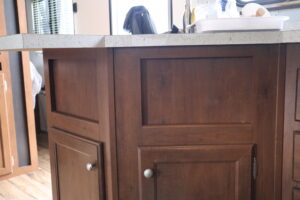 Prior to this RV modification, we were craving texture and depth that was lacking with the builder panels. Originally, this space under the counters was indented so in theory you could store narrow items in this space. We had to modify the area when we installed our residential kitchen sink (find links to all the items in our trailer here).
How We Completed This Easy RV Decor Hack
For a quick and inexpensive update, we found woven bamboo placemats at the dollar store! Originally, we had wanted to use cane, however, it was going to cost upwards of $100 to get this material to us. The dollar store placemats were only $2!
We simply removed the panels (they are held in with pin nails), cut the placemat to match the panel, and reinstalled both pieces. The entire modification took less than 15 minutes and is absolutely what we wanted!
The Completed Project
We ended up installing the bamboo mats throughout the kitchen and in the overhead storage above our sofa.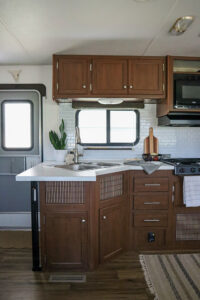 You can check out our entire trailer including before and after pictures and links to shop our home here.