Smooth Sailing RV Trip To Mexico (Find Out How Much it Really Cost)
This week we talk about our smooth sailing RV trip to Baja California Sur, Mexico and tell you how much it really cost! Last week, we shared the details of our quick and frugal trip through the US. In that post, we also share our exact costs.
Same as going through the US, we wanted to make it through Mexico quickly. Driving with a 30 foot trailer is not the most enjoyable and doing so in Mexico is even less fun. Stay tuned for an updated post on driving in Mexico with a trailer. For now, you can check out our 8 tips for driving in Mexico here.
Our trip was from Calexico, California to La Paz, Baja California Sur. The total distance was 848 miles and about 18.5 hours (based on google maps).
We entered Mexico at the Mexicali East border crossing on October 8, 2020. The night before, we had stayed about 15 minutes north of the border in Calexico. The morning of, we stopped to fill up the truck with fuel. At about 7:00 am, we crossed into Mexico!
We spent 3 days driving from the Mexican border to La Paz, Baja California Sur.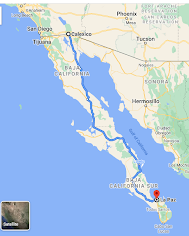 RV Trip to Mexico Costs
The costs for this RV trip to Mexico are broken down into four categories: fuel, accommodation, food, and miscellaneous.
Fuel Costs
Just like the US, fuel costs were our biggest expense driving through Mexico. There are also several stretches of highway where there is no gas stations (!) so we made sure to fill up two 6 gallon fuel cans.
We filled up 4 times over 3 days. Fill ups included once in Guerrero Negro, twice in Loreto, and once in Ciudad Insurgentes. We filled up the truck once in Loreto and then also stopped and filled up the fuel cans.
In Mexico, gas is measured in liters (L). 1 gallon is 3.79 L. Typically, the price of gas was about $20 MXN per L.
The total cost for fuel was: $6100.00 MXN ($305 USD)
Accommodation Costs
Our accommodation costs were the next biggest expense. We stayed at RV parks for the duration of the trip. This required slightly more planning than what into our US leg. We tried to find accommodation the night before using the Facebook groups we are in.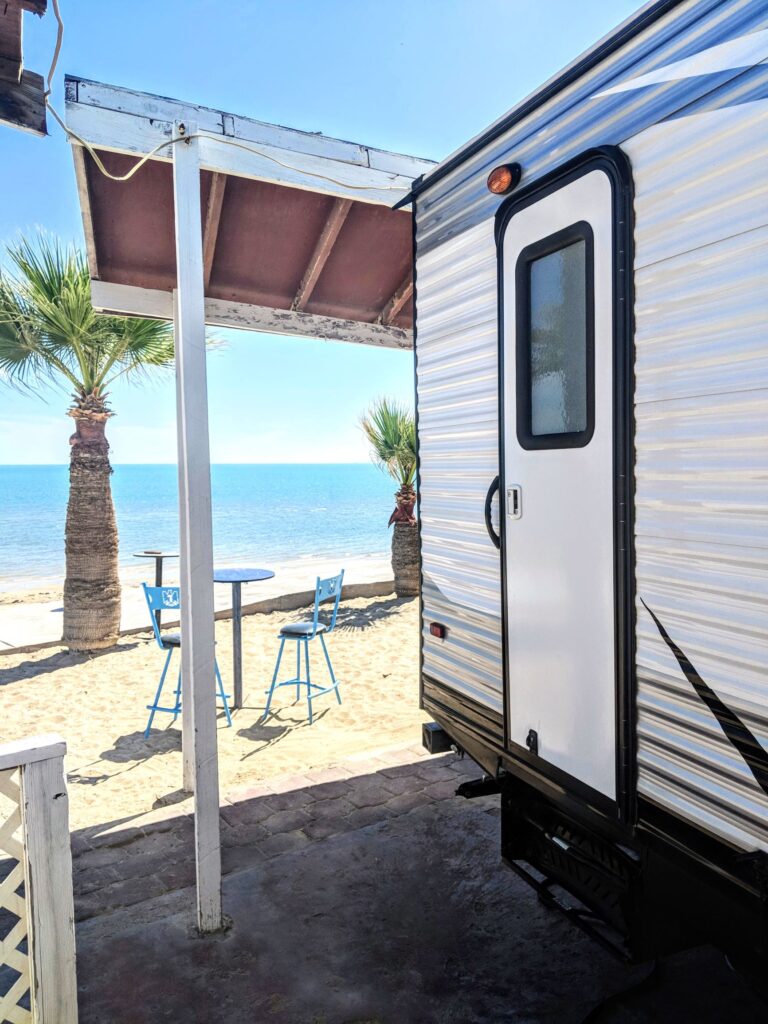 For our three nights in Mexico, we stayed at the following places:
The total cost for accommodation was: $1,430.00 MXN ($71.50 USD)
Food Costs
Just like the US leg, food was the cheapest expense. For our Mexican leg of the journey, we did not buy groceries but opted to eat out. Food in Mexico is very inexpensive and definitely an affordable option. By this time, we were really worn out from driving and did not want to prepare meals.
Day time meals were just snack foods like granola bars and fruit. We ate one large meal a day (dinner) at whatever town we were stopped in for the night.
Our typical nightly meal was about $500 MXN ($25 USD). That includes two entrees and two alcoholic beverages. Typically, you get chips and salsa with your meal as well.
We also were able to purchase a couple gallon jugs of water which is included in that $500 MXN cost per night.
The total cost for food was: $1,391.04 MXN ($69.55 USD)
Miscellaneous Costs
Last category is the miscellaneous costs. In this category, just like in the US trip, the costs are extremely dependent on your travels. The items included in this category are:
Vehicle insurance (mandatory for driving in Mexico)
Health/travel insurance
Immigration fees
For vehicle insurance, we went with Lewis and Lewis Insurance. We were able to get a quote and policy online. Make sure you get your insurance at least 1 day before you plan to cross the border. You absolutely must have liability insurance while driving around Mexico. Our policy also covers the trailer. It is a requirement to include any towables on your insurance.
There is a fee for your Forma Migratoria Múltiple (FMM) when you get to the border. We entered as "Canje" which is what they check off when you are entering with the intent of getting your temporary residency. Another option is to enter as a tourist. The fee was $575 MXN per person. We were not able to pay with credit card; cash was the only option!
The total cost for miscellaneous was: $21,861.92 MXN ($1,093.10 USD)
The total cost to drive our RV across Mexico was $30,782.96 MXN or approximately $1,539.15 USD. Besides fuel, our miscellaneous expenses really contributed because we had to buy two different types of insurance (health and vehicle). Your miscellaneous costs may vary greatly from ours though.
---
For our RV trip to Mexico, we spent 3 days driving and 3 nights before we arrived in our final destination in La Paz, Baja California Sur. We had absolutely no incidents driving through. Stay tuned for a complete trip breakdown and reviews of our accommodations. Make sure you subscribe so you don't miss it!
Post any questions below and I will make sure to answer. If you have any specific questions for driving an RV in Mexico, post them below and I will include them in an updated post about driving in Mexico.
Be sure to subscribe and follow us on instagram.