RV Life – Summer 2020 Was Amazing; Find Out Why
For many the entire of year of 2020 was a write-off. For us, we started full-time RV life and had an amazing summer! Find out where we spent the summer and why it was so good!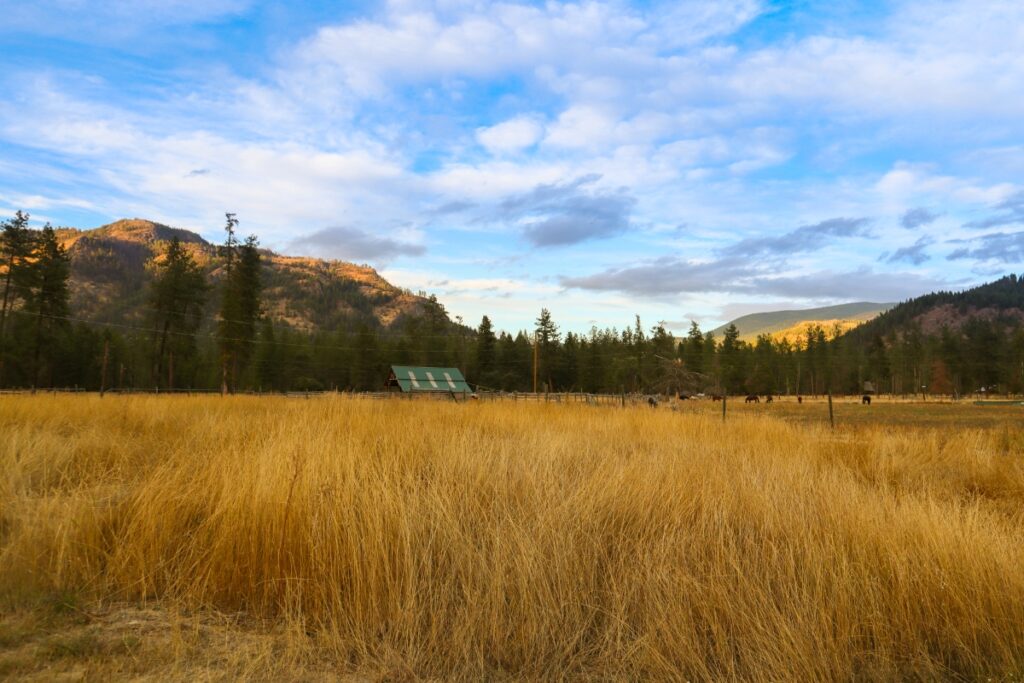 Nestled in a beautiful valley and surrounded by the Kettle and Granby rivers is the quaint town of Grand Forks, British Columbia. Drive down a winding road that follows the river to a beautiful gem – perfect for the RV life or a trip away – and you will find the breathtaking PV Ranch Adventures.
On this beautiful working ranch is where we spent the first 3 months of RV life.
Our First 3 Months of RV Life
When our original plans were cancelled, we had to find a new spot to park our RV. As luck would have it, my coworker's family owned a ranch in a town I had never heard of. We quickly booked a spot with the intent of waiting until the US/Canada border opened… as you probably know, that never happened. However, this ended up being a blessing and we were blessed to spend 3 months at PV Ranch Adventures.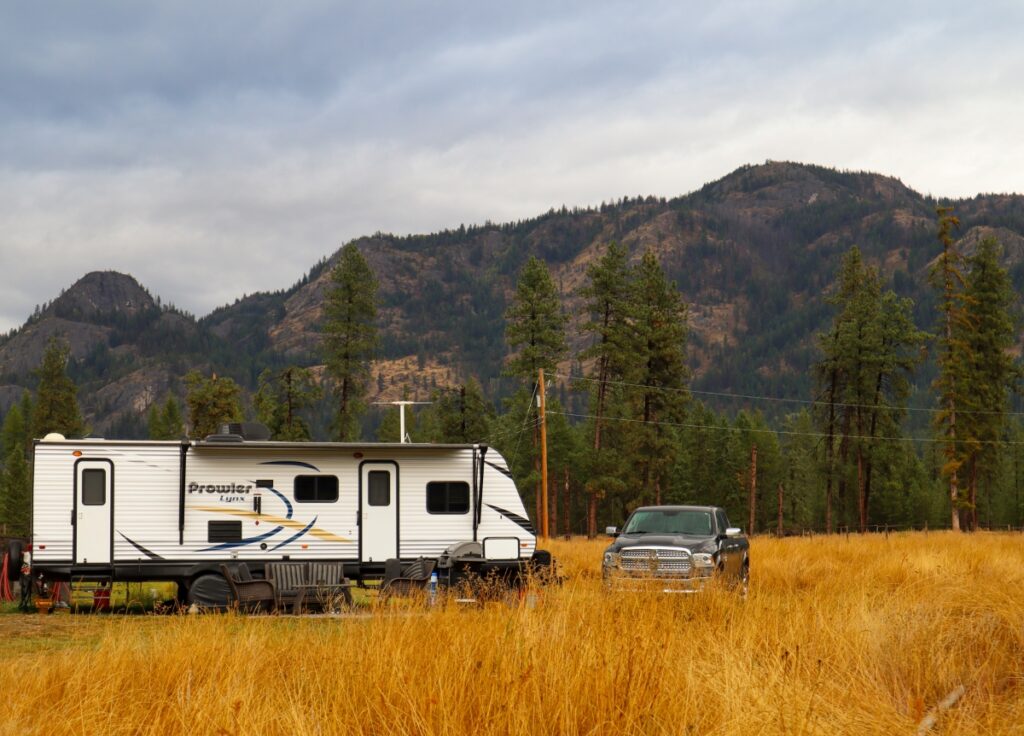 PV Ranch Adventures
PV Ranch Adventures is a working cattle ranch. When not busy herding cattle, they also host events in a beautiful pavilion with a stunning mountain backdrop. On top of that, they also have 3 rustic cabins and RV spots overlooking the Granby river.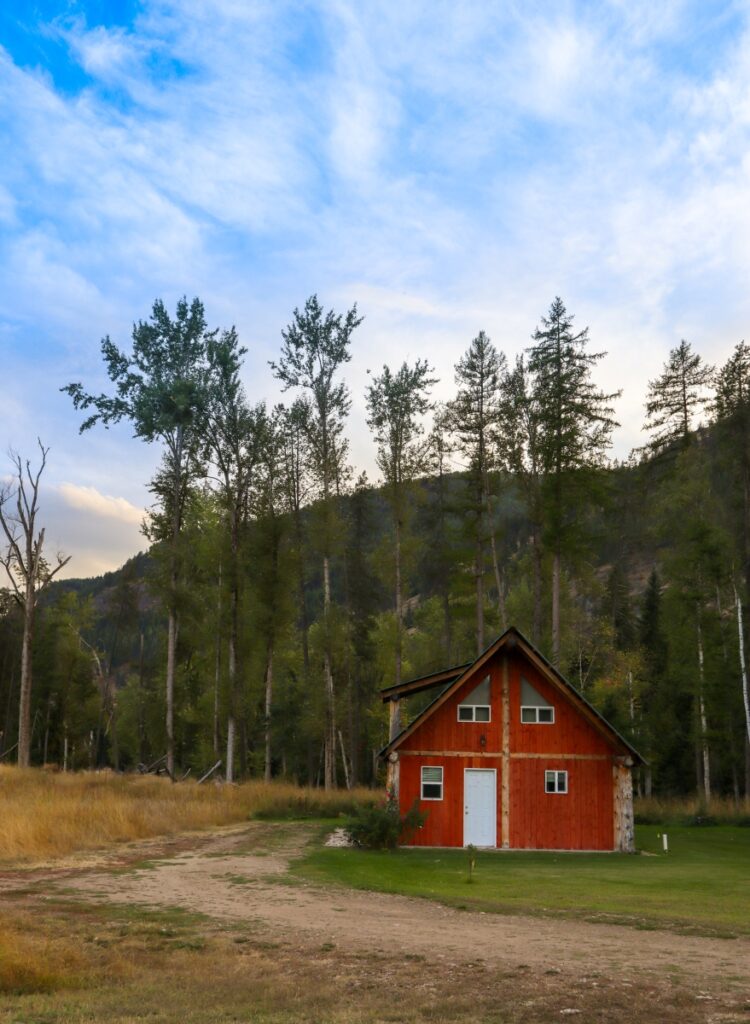 We spent the summer in one of these spots overlooking the valley. Our days were spent watching the cows and horses – it was a tough life.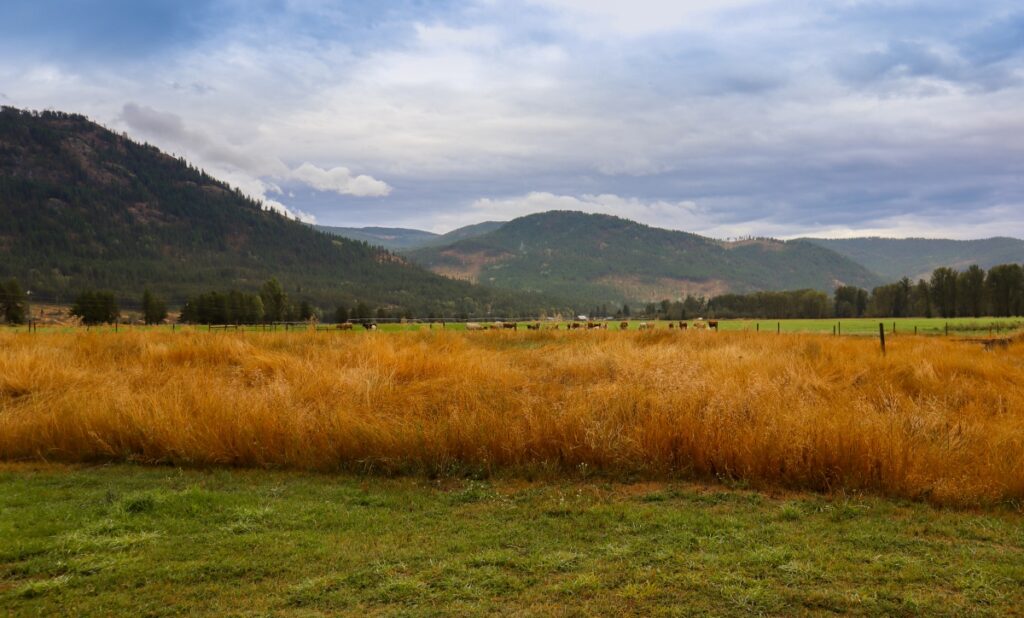 If you are dreaming of warm, lazy days on the river then PV Ranch is the place for you. Our RV was steps from the Granby river where you could hop in a tube and go for a float. Just 10 minutes down the road was a perfect swimming hole where the local kids enthusiastically leap from Hummingbird Bridge!
Up the road where the asphalt ends there are many, many hiking and off-road trails. We got to enjoy the beautiful hiking trails and stunning views around this area while using PV Ranch as our base camp.
PV Ranch and Grand Forks is also only a short drive from the popular Christina Lake. There you can go swimming, boating, water skiing, wakeboarding, and fishing. We met some incredible RV friends who were kind enough to take us boating one afternoon. It is an amazingly warm lake that you will love!
If you are planning your camping for 2021 then I definitely recommend you plan to stay at PV Ranch. They have 2 RV sites with water and power hook-ups. If you are equipped to boondock, then they have lots of beautiful spots for you as well.
Our favorite spots from the first summer of RV life
We got to explore so much of the Boundary region during our first RV life summer. Here are some of our favorite spots from the summer that contributed to making it such a great experience.
Cafés & Coffee
One thing we are super passionate about are cafés and coffee.
Our favorite coffee shop from the summer is actually a couple towns over – Deadwood Junction in Greenwood, British Columbia.
The coffee they serve is Oso Negro which is one of our favorites. They also serve gelato which is so amazing that we tried almost every flavor. A summer special is their BBQ. It is served until the middle of September and you definitely want to try it.
On the same road as PV Ranch is the lovely Juggernaut Coffee. We drank a lot of Katie's coffee this summer! Due to the pandemic, she was selling bagged coffee in a road side stand. Unfortunately we were not able to meet her or stop by to discuss her roasting practices but it was amazing to support a local family.
Katie also makes an amazing sourdough bread!
We spent a lot of time at the Board Room Café working this summer. They have a great selection of food as well plus some super yummy baked goods.
Last but certainly not least is Jogas Espresso Café. This is definitely the spot where we spent the most time in town! Their breakfasts are super amazing! Plus they let us hang out, drink coffee, and work on their WIFI.
Bakeries
Grand Forks has a lot of amazing bakeries! This is a double edge sword though. We ate a lot of amazing bread which was great for the taste buds but not so great for the waist line. (It was totally worth it though).
We ate a lot of bread and pastries from this local spot. Just as the summer was ending, they reopened their sit down bakery and café.
If you are in the area, this is a definite must stop spot!
It was an absolute joy to stop by Mrs. B & B's bakery when we were in town. She has a cute little baking shop in the back of her property where we could go and pick out bread and cookies and squares.
Other favorites from the summer
Here are some other favorites from the summer:
Grand Forks Farmer's Market – This is where we bought all of our produce all summer
Grand Forks Public Library – I was able to get a temporary library card and spent the summer reading. My favorite day of the week was stopping by the library to pick out new books.
Jerseyland Organics – This adorable little spot had a petting zoo plus they sell amazing organic milk products. The yogurt is amazing!
---
Our first summer in full-time RV life was surprisingly good given the state of the world in 2020. As you can see, we had a super quiet summer in a beautiful little town and drank a lot of coffee and ate a lot of pastries.
If you were RVing last year, where did you spend your summer? If you weren't RVing, where is your favorite summer spot? Let me know in the comments!
Check us out on Instagram for more RV life!